Event branding
Capturing

an

audience

with

a

freshly

branded

flagship

event
positive survey feedback earned
of target registrations delivered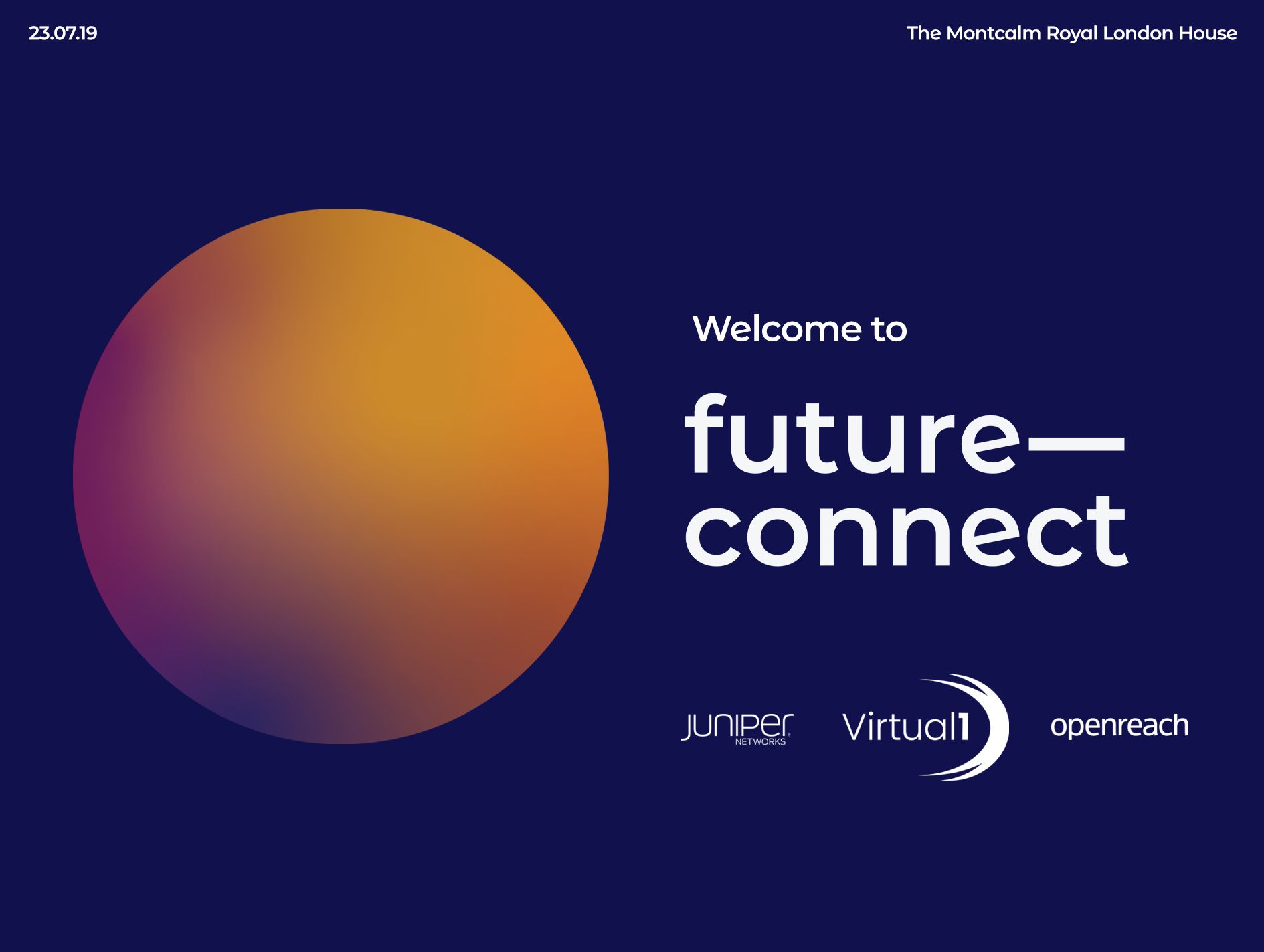 The client
Virtual1 operates the UK's largest and most advanced wholesale-only network, providing businesses with customisable, automated, streamlined connectivity. They're well-regarded in the channel for their fast growth and excellent service.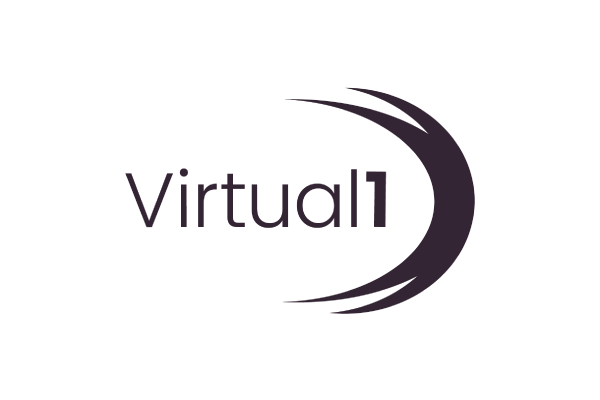 The challenge
Creating

a

fully

branded

event,

in

just

2

weeks
In June 2019, Virtual1 approached us to help them launch their first invite-only industry event—one that would make waves in the industry, set the precedent for an annual event series, and solidify Virtual1's position as connectivity thought-leaders.
And they needed it fast. With invitations to send and print deadlines to meet, the concept, message, and visuals had to be created within two weeks.
The solution
A

connectivity

story

unlike

the

rest
We came up with a powerful concept that would steer the event. Then, we built the event's entire brand from scratch, got the message out to attract attendees, and wove the concept through every event touchpoint. Through potent messaging and a gripping creative direction, we captured the story Virtual1 wanted to tell with FutureConnect and set the event apart in the industry.
Key themes
The brand needed to convey change and urgency, to reflect the evolution that connectivity is undergoing through tech like fibre and 5G; known as the Fourth Industrial Revolution. We also needed to avoid industry buzzwords that appeared at other events.
The shifting gradient represents the luminous, ever-changing quality of the digital world. (Not to mention—it's very nice to look at.)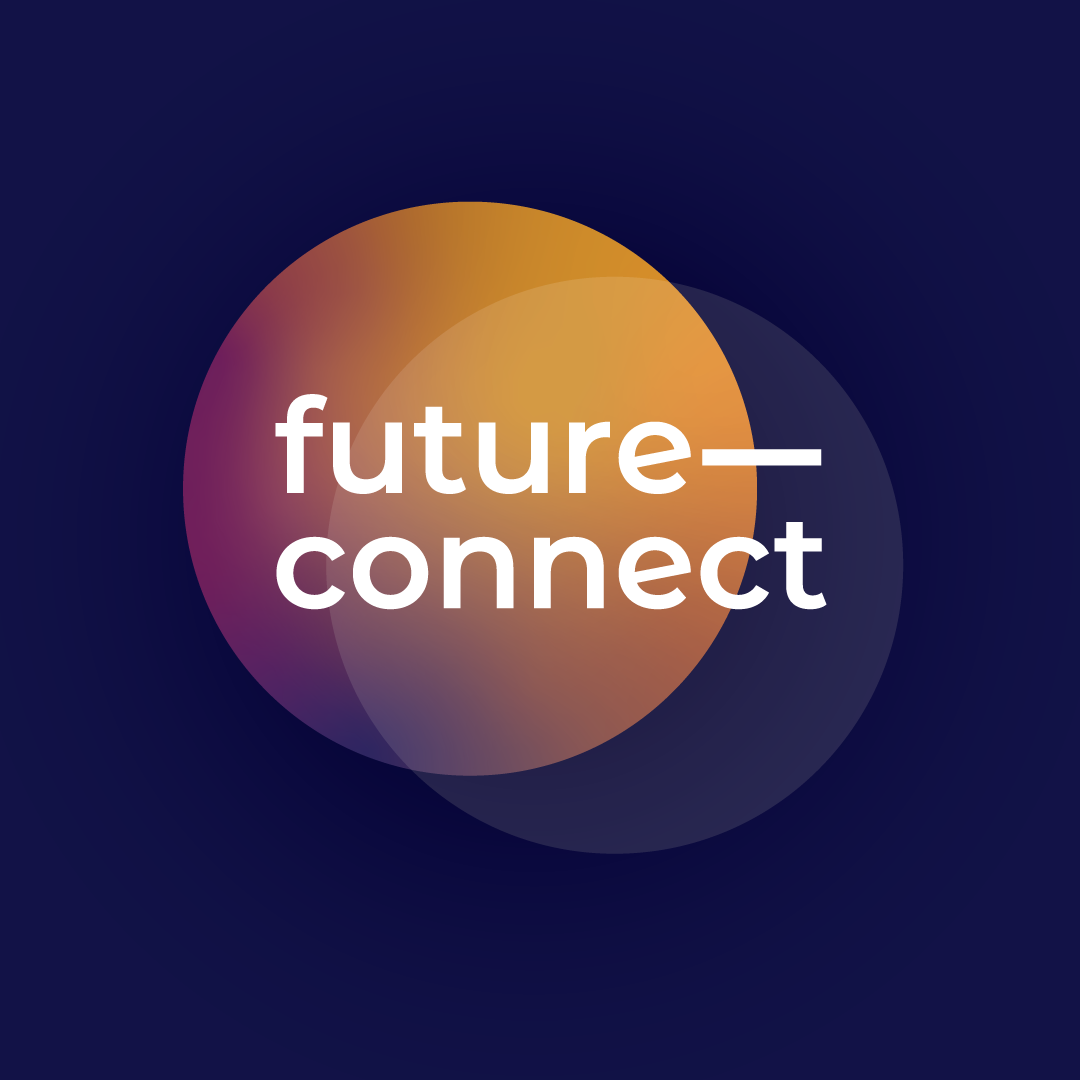 Juxtaposing and layering static shapes creates tension, and the illusion of movement. Again, a clear reflection of the transition that Virtual1's industry is undergoing.
Using expressive motion delivers an enthusiastic, vibrant, visible key message. It takes the audience from here to there; from then, to now, to what's next.
As a narrative tool, timelines set the scene for conversations around connectivity shifts throughout history. And along with illustrating the historical context, they provoke thought about how the next shift will manifest, and Virtual1's role in it.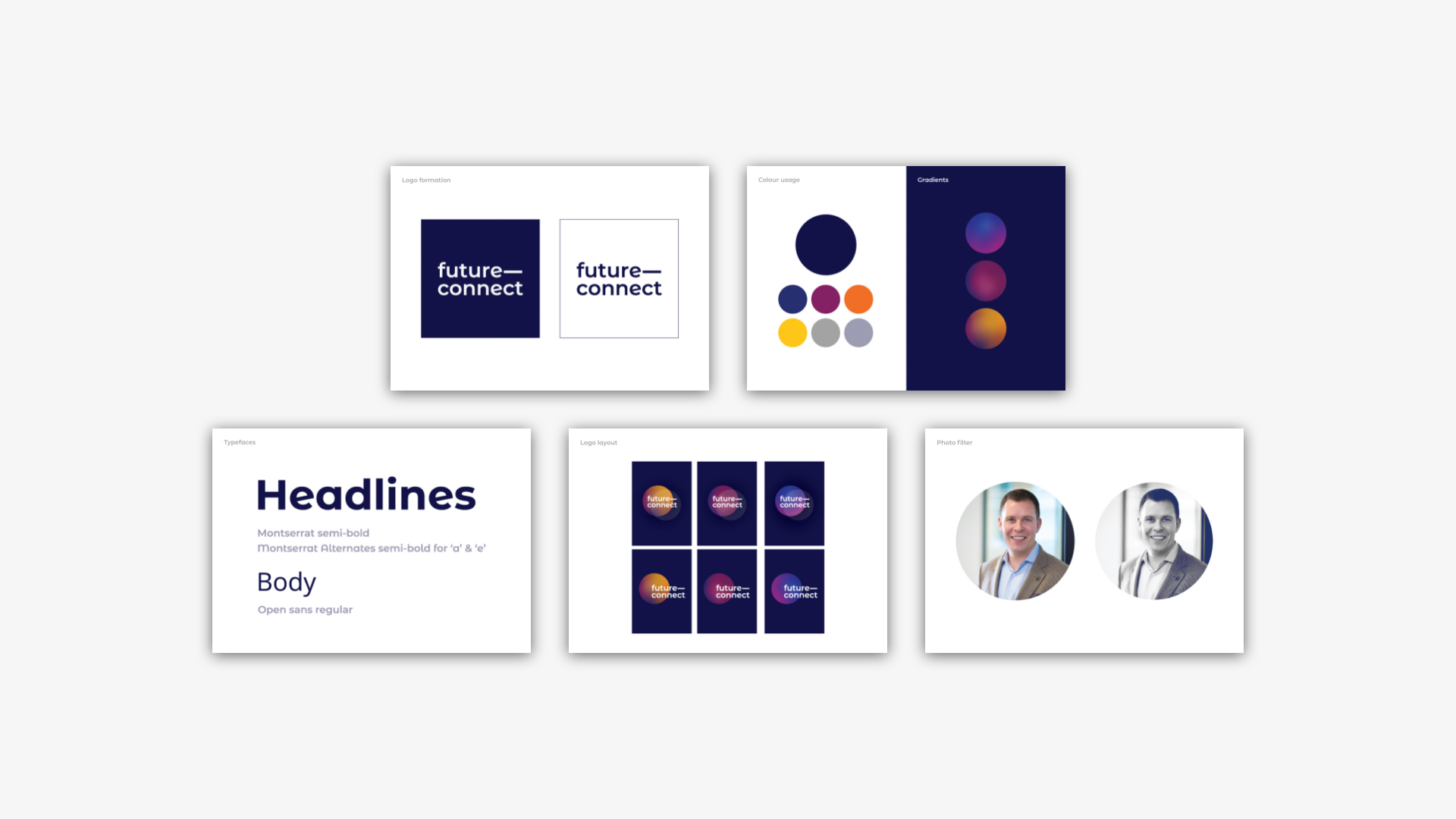 The breakdown
Bringing

the

event

to

life
We crafted a message that built on the shift concept—one that would contextualise the changes that telecoms is going through, while spurring channel partners to capitalise on the shift by attending FutureConnect.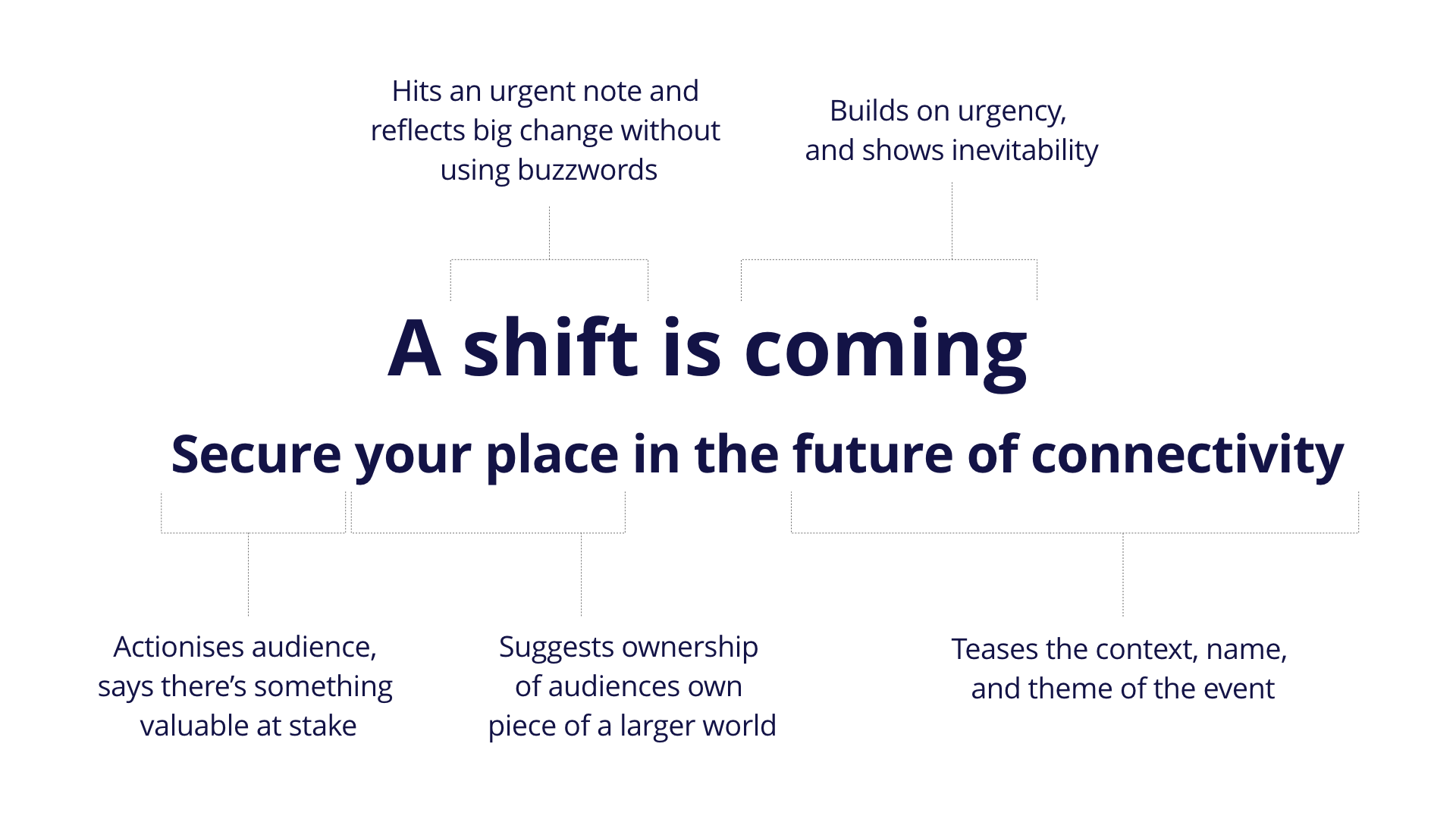 Breaking down key messaging
Animated presentation templates
Sleek, unforgettable, and mesmerising, the animation our designers crafted was a smashing success on the e-invitations and the venue's display screens.
The HTML email invitation showcased the animation to capture attention, while PowerPoint templates meant speakers could showcase content without disrupting the sleek design. From event brochures and lanyards, to video welcome banners and large format displays, no opportunity was missed to convey the concept of shift.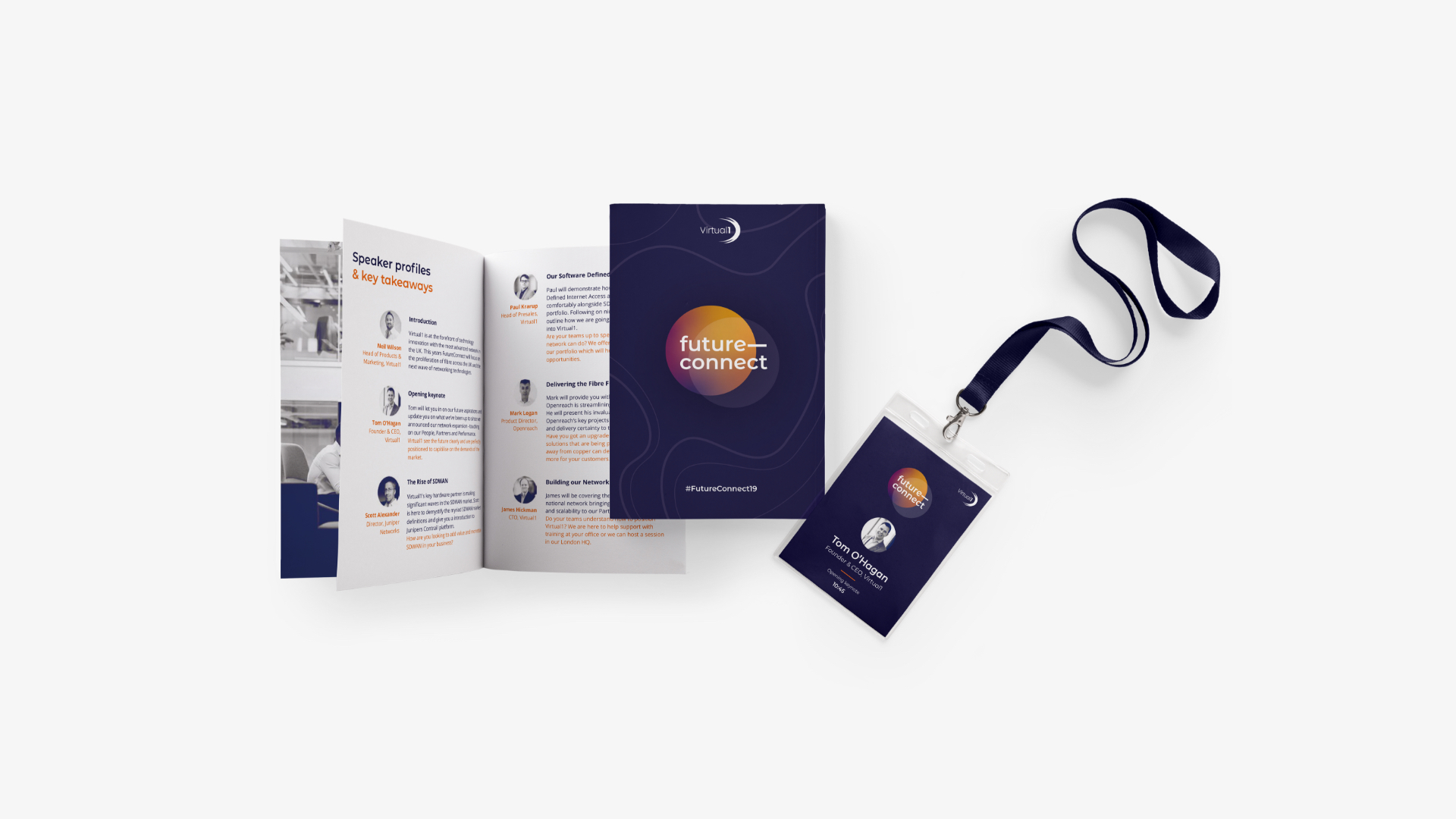 "Remarkable

visuals

and

standout

messaging

usually

unseen

in

our

industry"
The response was staggering—we delivered 150% of the target registrations, and Virtual1 ended up oversubscribed for the event. And in a survey following the event, 100% of attendees gave positive feedback, saying they'd definitely return next year.
Most importantly we gave Virtual1 the tools to continue to run the event series, with an ownable creative direction and marketing framework with proven success.
But don't take our word for it; here's what Virtual1 had to say: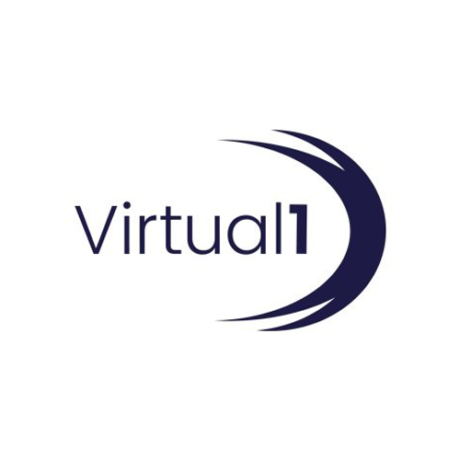 F6 Agency played a key part in bringing Virtual1's first flagship event to life through an exceptional and distinct visual identity.
Their expertise in the telecoms industry meant they were able to pinpoint a creative concept that would effectively drive our communications not only for this event, but for FutureConnect events going forward. Furthermore their creative direction was not only built with similar longevity, but packed in remarkable visuals, engaging animations, and standout messaging usually unseen in our industry—all while remaining faithful to our brand.
The event was a huge success with excellent attendance, and thanks to the F6 team we now have a fantastic foundation that we can continue to build on for years to come.
Head of Products & Marketing, Virtual1